Je vous propose de faire le point avec vous des sorties de cette semaine sur l'eShop Nintendo Switch.
Les sorties de la semaine :
Azur Lane: Crosswave
Fallen Legion Revenants
#1 Crosswords
#Drive
Ace Invaders
Anodyne 2: Return to Dust
Astrologaster
Black Jack World Tour
Boom Blaster
Brutal Rage
Burger Master
Cathedral
Crazy Oce
Doom & Destiny Advanced
Dynos & Ghosts
Escape Route
Final Sword Definitive Edition
Glam
My Little IceCream Booth
Night Vision
Offroad Mini Racing
PUSS!
Qube Qross
Rodent Warriors
Ski Jump Challenge
SNK vs. Capcom: The Match of the Millennium
Speed Limit
Thomas Was Alone
Void Gore
Précommandes Nintendo Switch :

Battle Brothers
Harvest Moon: One World
Mario Golf: Star Rush
Miitopia
The Legend of Zelda: Skyward Sword HD
Plants vs. Zombies: Battle for Neighborville Complete Edition
Démo de la semaine :
Beat Me!
Ghostrunner
Puyo Puyo Tetris 2
Speed Limit
Les DLC de la semaine :
Asphalt 9: Legends
Azur Lane: Crosswave
FUSER™
GROOVE COASTER WAI WAI PARTY!!!!
Mutant Football League: Dynasty Edition
Les promotions de la semaine :
En premier, les promotions misent en valeur par Nintendo cette semaine.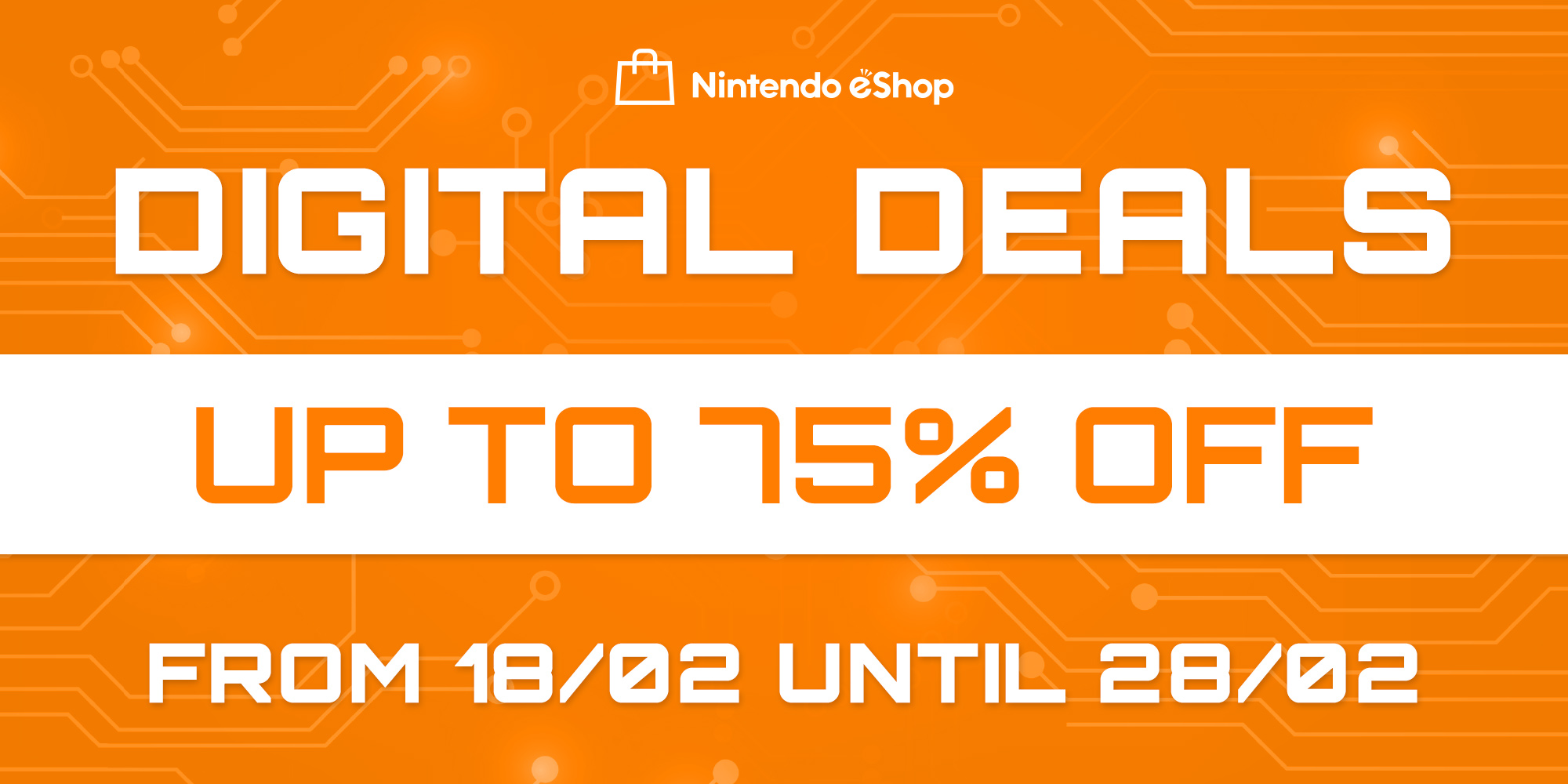 Title
Discount
Sale Start Date
Sale End Date
Among Us (Innersloth)
30%
18/02/2021

15:00 CET

28/02/2021

23:59 LT

Sonic Mania (SEGA)
30%
18/02/2021

15:00 CET

28/02/2021

23:59 LT

Diablo III: Eternal Collection (Blizzard Entertainment)
50%
18/02/2021

15:00 CET

28/02/2021

23:59 LT

Divinity: Original Sin 2 – Definitive Edition (Larian Studios)
30%
18/02/2021

15:00 CET

28/02/2021

23:59 LT

BioShock: The Collection (2K)
50%
18/02/2021

15:00 CET

28/02/2021

23:59 LT

Sid Meier's Civilization VI (2K)
67%
18/02/2021

15:00 CET

28/02/2021

23:59 LT

Burnout Paradise Remastered (Electronic Arts)
50%
18/02/2021

15:00 CET

28/02/2021

23:59 LT

LEGO CITY Undercover (WB Games)
70%
18/02/2021

15:00 CET

28/02/2021

23:59 LT

Yu-Gi-Oh! Legacy of the Duelist: Link Evolution (KONAMI)
60%
18/02/2021

15:00 CET

28/02/2021

23:59 LT

Unravel Two (Electronic Arts)
75%
18/02/2021

15:00 CET

28/02/2021

23:59 LT
Les promotions classiques:
Réduction
Nom
Date de fin
Prix
Fun! Fun! Animal Park
26 fév. 2021 01:59
2,99 €
Switch

29,99 €

Break Dot
11/03/2021 01:59
3,64 €
Switch

4,55 €

Twin Robots: Ultimate Edition
11/03/2021 01:59
3,19 €
Switch

7,99 €

Cybarian: The Time Traveling Warrior
11/03/2021 01:59
2,74 €
Switch

4,99 €

Scheming Through The Zombie Apocalypse: The Beginning
11/03/2021 01:59
2,49 €
Switch

4,99 €

Milo's Quest
11/03/2021 01:59
2,74 €
Switch

4,99 €

Ghost Parade
26 fév. 2021 01:59
9,99 €
Switch

39,99 €

Zeroptian Invasion
11/03/2021 01:59
2,74 €
Switch

4,99 €

−20%
Battojutsu
11/03/2021 01:59
3,99 €
Switch

4,99 €

−30%
Red Rope: Don't Fall Behind +
01/03/2021 01:59
9,09 €
Switch

12,99 €

Warlock's Tower
11/03/2021 01:59
2,49 €
Switch

4,99 €

Heroes Trials
11/03/2021 01:59
2,99 €
Switch

5,99 €

Super Box Land Demake
11/03/2021 01:59
2,49 €
Switch

4,99 €

Rush Rally 3
01/03/2021 01:59
9,99 €
Switch

14,99 €

−74%
Kid Tripp
18/03/2021 01:59
1 €
Switch

3,99 €

Alphadia Genesis
04/03/2021 01:59
10,49 €
Switch

14,99 €

Hoggy2
11/03/2021 01:59
2,49 €
Switch

4,99 €

Sushi Reversi
11/03/2021 01:59
8,70 €
Switch

12,99 €

Monochrome Order
04/03/2021 01:59
7,49 €
Switch

14,99 €

−55%
Shadow Of Loot Box
11/03/2021 01:59
3,59 €
Switch

7,99 €

Bird Game +
11/03/2021 01:59
2,99 €
Switch

4,99 €

Tin & Kuna
26 fév. 2021 01:59
12,49 €
Switch

24,99 €

Fernz Gate
04/03/2021 01:59
6,49 €
Switch

12,99 €

Inksplosion
11/03/2021 01:59
1,99 €
Switch

4,99 €

Peasant Knight
11/03/2021 01:59
1,49 €
Switch

2,99 €

Superepic: The Entertainment War
26 fév. 2021 01:59
3,74 €
Switch

14,99 €

−40%
Iron Snout
11/03/2021 01:59
2,99 €
Switch

4,99 €

Devious Dungeon 2
11/03/2021 01:59
3,99 €
Switch

7,99 €

Himno
11/03/2021 01:59
2,74 €
Switch

4,99 €

Sagebrush
11/03/2021 01:59
3,29 €
Switch

5,99 €

Projection: First Light
21/03/2021 01:59
8,99 €
Switch

17,99 €

Madoris R
11/03/2021 01:59
3,99 €
Switch

4,99 €

Red Bow
11/03/2021 01:59
2,99 €
Switch

4,99 €

Delta Squad
11/03/2021 01:59
2,99 €
Switch

5,99 €

Mekabolt
11/03/2021 01:59
2,74 €
Switch

4,99 €

−66%
Morphite
21/03/2021 01:59
5,09 €
Switch

14,99 €

Think Of The Children
25 fév. 2021 01:59
2,59 €
Switch

12,99 €

Attack Of The Toy Tanks
11/03/2021 01:59
2,74 €
Switch

4,99 €

Sephirothic Stories
04/03/2021 01:59
7,49 €
Switch

14,99 €

Chickens Madness
8,19 €
Switch

12,99 €

Deep Space Rush
11/03/2021 01:59
1,99 €
Switch

4,99 €

The Church In The Darkness
25 fév. 2021 01:59
4,99 €
Switch

19,99 €

Bouncy Bullets
11/03/2021 01:59
2,74 €
Switch

4,99 €

−50%
Midnight Deluxe
11/03/2021 01:59
2,49 €
Switch

4,99 €

−50%
Squareboy Vs Bullies: Arena Edition
11/03/2021 01:59
2,49 €
Switch

4,99 €

Drunken Fist
11/03/2021 01:59
5,99 €
Switch

7,99 €

Zero Strain
11/03/2021 01:59
3,99 €
Switch

9,99 €

Daggerhood
11/03/2021 01:59
2,49 €
Switch

4,99 €

−50%
Jack N' Jill DX
11/03/2021 01:59
2,49 €
Switch

4,99 €

Paradox Soul
11/03/2021 01:59
2,74 €
Switch

4,99 €

Pity Pit
11/03/2021 01:59
1,99 €
Switch

4,99 €

Metagal
11/03/2021 01:59
2,99 €
Switch

4,99 €

−45%
Fullblast
11/03/2021 01:59
3,29 €
Switch

5,99 €

Just Ignore Them
11/03/2021 01:59
2,49 €
Switch

4,99 €

Gravity Duck
11/03/2021 01:59
2,24 €
Switch

4,99 €

−66%
Whipseey And The Lost Atlas
21/03/2021 01:59
2,03 €
Switch

5,99 €

Refreshing Sideways Puzzle Ghost Hammer
11/03/2021 01:59
19,99 €
Switch

24,99 €

Mochi Mochi Boy
11/03/2021 01:59
2,74 €
Switch

4,99 €

Vitamin Connection
26 fév. 2021 01:59
12,61 €
Switch

18,02 €

Alvastia Chronicles
04/03/2021 01:59
6,49 €
Switch

12,99 €

−45%
Tetra's Escape
11/03/2021 01:59
2,74 €
Switch

4,99 €

−66%
Storm Boy
21/03/2021 01:59
2,03 €
Switch

5,99 €

Neon Junctions
11/03/2021 01:59
2,74 €
Switch

4,99 €

Legend Of The Skyfish
11/03/2021 01:59
4,39 €
Switch

7,99 €

−50%
One More Dungeon
11/03/2021 01:59
3,99 €
Switch

7,99 €

Archlion Saga
04/03/2021 01:59
2,49 €
Switch

4,99 €

Family Tree
11/03/2021 01:59
1,99 €
Switch

7,99 €

−45%
Access Denied
11/03/2021 01:59
2,74 €
Switch

4,99 €

Replica
04/03/2021 01:59
3,49 €
Switch

4,99 €

Distraint: Deluxe Edition
11/03/2021 01:59
2,99 €
Switch

5,99 €

My Big Sister
11/03/2021 01:59
2,99 €
Switch

5,99 €

−50%
League Of Evil
11/03/2021 01:59
3,99 €
Switch

7,99 €

Foxyland 2
11/03/2021 01:59
2,99 €
Switch

5,99 €

The Stillness Of The Wind
25 fév. 2021 01:59
4,02 €
Switch

11,49 €

Super Weekend Mode
11/03/2021 01:59
2,74 €
Switch

4,99 €

112Th Seed
11/03/2021 01:59
1,99 €
Switch

4,99 €

Everdark Tower
04/03/2021 01:59
2,49 €
Switch

4,99 €

−50%
Devious Dungeon
11/03/2021 01:59
3,99 €
Switch

7,99 €

−50%
Plantera Deluxe
11/03/2021 01:59
2,49 €
Switch

4,99 €

Football Game
11/03/2021 01:59
2,49 €
Switch

4,99 €

Foxyland
11/03/2021 01:59
2,49 €
Switch

4,99 €

Super Wiloo Demake
11/03/2021 01:59
2,74 €
Switch

4,99 €

36 Fragments Of Midnight
11/03/2021 01:59
1,49 €
Switch

2,99 €

−50%
I And Me
11/03/2021 01:59
4,99 €
Switch

9,99 €

Juiced!
04/03/2021 01:59
1,99 €
Switch

4,99 €

−20%
Top Gun Air Combat
7,99 €
Switch

9,99 €

Hero Hours Contract
04/03/2021 01:59
1,08 €
Switch

3,29 €

−67%
The Rainsdowne Players
04/03/2021 01:59
1,08 €
Switch

3,29 €

Battlesloths
08/03/2021 01:59
1,81 €
Switch

9,09 €

Void Gore
10/03/2021 01:59
3,99 €
Switch

4,99 €

−50%
Bounty Battle
23 fév. 2021 01:59
12,49 €
Switch

24,99 €

−70%
Mainlining
23 fév. 2021 01:59
4,49 €
Switch

14,99 €

−50%
Stranded Sails — Explorers Of The Cursed Islands
23 fév. 2021 01:59
12,49 €
Switch

24,99 €

Tap Tap Legions
15/03/2021 01:59
2,79 €
Switch

3,99 €

−70%
Cast Of The Seven Godsends
23 fév. 2021 01:59
3,89 €
Switch

12,99 €

#Drive
24 fév. 2021 01:59
9,90 €
Switch

11 €

−70%
The Count Lucanor
23 fév. 2021 01:59
4,49 €
Switch

14,99 €

The Copper Canyon Dixie Dash
02/03/2021 01:59
4,68 €
Switch

6,69 €

−40%
Spirit Of The North
23 fév. 2021 01:59
12,59 €
Switch

20,99 €

Immortal Realms: Vampire Wars
03/03/2021 01:59
23,99 €
Switch

39,99 €

Miner Warfare
02/03/2021 01:59
4,79 €
Switch

7,99 €

Doom & Destiny
02/03/2021 01:59
7,19 €
Switch

11,99 €

Free Throw Basketball
15/03/2021 01:59
2,99 €
Switch

3,99 €

Indygo
23 fév. 2021 01:59
1,18 €
Switch

6,99 €

−45%
Avenger Bird
23 fév. 2021 01:59
1,09 €
Switch

1,99 €

Silk
23 fév. 2021 01:59
2,49 €
Switch

9,99 €

−22%
Guess The Word
23 fév. 2021 01:59
1 €
Switch

1,29 €

−74%
Redneck Skeet Shooting
23 fév. 2021 01:59
1,29 €
Switch

4,99 €

−74%
Bouncy Bob 2
23 fév. 2021 01:59
1,29 €
Switch

4,99 €

Otherworldly
23 fév. 2021 01:59
1,18 €
Switch

6,99 €

Frodoric The Driver
23 fév. 2021 01:59
2,99 €
Switch

4,99 €

−20%
Firework
22 fév. 2021 01:59
11,99 €
Switch

14,99 €

−83%
Selma And The Wisp
23 fév. 2021 01:59
1,69 €
Switch

9,99 €

−83%
Please The Gods
23 fév. 2021 01:59
1,69 €
Switch

9,99 €

Tank Mechanic Simulator
23 fév. 2021 01:59
5,39 €
Switch

17,99 €

Stela
23 fév. 2021 01:59
7,19 €
Switch

17,99 €

Stellatum
08/03/2021 01:59
7,49 €
Switch

14,99 €

−22%
Theatre Tales
23 fév. 2021 01:59
1,08 €
Switch

1,39 €

Doubles Hard
23 fév. 2021 01:59
1,01 €
Switch

5,99 €

Boss Rush: Mythology
23 fév. 2021 01:59
2,39 €
Switch

7,99 €

Detective Puz
23 fév. 2021 01:59
1,49 €
Switch

4,99 €

The Incredible Adventures Of Super Panda
23 fév. 2021 01:59
1,18 €
Switch

6,99 €

Her Majesty's Ship
23 fév. 2021 01:59
1,69 €
Switch

9,99 €

Blood Waves
08/03/2021 01:59
4,99 €
Switch

9,99 €

−74%
Gofishing 3D
23 fév. 2021 01:59
1,29 €
Switch

4,99 €

Bohemian Killing
23 fév. 2021 01:59
1,35 €
Switch

7,99 €

−70%
Feathery Ears
23 fév. 2021 01:59
2,99 €
Switch

9,99 €

The Long Return
23 fév. 2021 01:59
2,39 €
Switch

7,99 €

−74%
Epic Clicker Journey
23 fév. 2021 01:59
1,29 €
Switch

4,99 €

Super Tennis
23 fév. 2021 01:59
1,01 €
Switch

5,99 €

Breeder Homegrown: Director's Cut
08/03/2021 01:59
2,49 €
Switch

4,99 €

Rift Keeper
08/03/2021 01:59
4,99 €
Switch

9,99 €

−74%
Hotel Dracula
23 fév. 2021 01:59
1,29 €
Switch

4,99 €

The Mooseman
08/03/2021 01:59
3,49 €
Switch

6,99 €

Tetsumo Party
01/03/2021 01:59
0,99 €
Switch

4,99 €

−50%
North
08/03/2021 01:59
1,49 €
Switch

2,99 €

Demolish & Build 2018
23 fév. 2021 01:59
1,49 €
Switch

14,99 €

It's Spring Again
08/03/2021 01:59
0,99 €
Switch

1,99 €

−74%
Billy Bomber
23 fév. 2021 01:59
1,30 €
Switch

5 €

−22%
Pet Care
23 fév. 2021 01:59
1 €
Switch

1,29 €

Rmx Real Motocross
23 fév. 2021 01:59
1,18 €
Switch

6,99 €

Hed The Pig
23 fév. 2021 01:59
2,39 €
Switch

3,99 €

Bus Fix 2019
23 fév. 2021 01:59
1,01 €
Switch

5,99 €

−74%
Godly Corp
23 fév. 2021 01:59
2,07 €
Switch

7,99 €

−74%
Darkest Hunters
23 fév. 2021 01:59
1,29 €
Switch

4,99 €

−83%
Down To Hell
23 fév. 2021 01:59
1,69 €
Switch

9,99 €

−50%
Hero Express
22 fév. 2021 01:59
2,49 €
Switch

4,99 €

−83%
Avocuddle
23 fév. 2021 01:59
2,20 €
Switch

12,99 €

Chicken Rider
23 fév. 2021 01:59
1,03 €
Switch

3,99 €

The Mystery Of Woolley Mountain
23 fév. 2021 01:59
0,99 €
Switch

10,99 €

−70%
Paint Your Pet
23 fév. 2021 01:59
1,49 €
Switch

4,99 €

Die For Valhalla!
01/03/2021 01:59
2,39 €
Switch

11,99 €

−83%
Ships
23 fév. 2021 01:59
2,20 €
Switch

12,99 €

A Winter's Daydream
08/03/2021 01:59
2,99 €
Switch

5,99 €

−60%
Immortal Planet
01/03/2021 01:59
5,99 €
Switch

14,99 €

Car Trader
23 fév. 2021 01:59
1,03 €
Switch

3,99 €

Swords And Sandals: Spartacus
23 fév. 2021 01:59
1,29 €
Switch

12,99 €

Maze
23 fév. 2021 01:59
2,09 €
Switch

6,99 €

−70%
Rally Rock 'N Racing
16/03/2021 01:59
2,99 €
Switch

9,99 €

−22%
Little Shopping
23 fév. 2021 01:59
1 €
Switch

1,29 €

−45%
I Wanna Fly
23 fév. 2021 01:59
1,09 €
Switch

1,99 €

Steamburg
01/03/2021 01:59
0,99 €
Switch

4,99 €

Car Mechanic Manager
23 fév. 2021 01:59
1,03 €
Switch

3,99 €

−70%
Poltergeist Crusader
23 fév. 2021 01:59
1,49 €
Switch

4,99 €

−83%
Pangeon
23 fév. 2021 01:59
1,69 €
Switch

9,99 €

Ultra Off-Road 2019: Alaska
23 fév. 2021 01:59
1,79 €
Switch

17,99 €

The Tower Of Beatrice
08/03/2021 01:59
2,99 €
Switch

5,99 €

Nubarron: The Adventure Of An Unlucky Gnome
23 fév. 2021 01:59
2,69 €
Switch

8,99 €

Technosphere
23 fév. 2021 01:59
1,49 €
Switch

14,99 €

The Executioner
23 fév. 2021 01:59
1,69 €
Switch

9,99 €

Ailment
23 fév. 2021 01:59
1,35 €
Switch

7,99 €

−83%
Climbros
23 fév. 2021 01:59
1,68 €
Switch

9,90 €

−74%
Undead & Beyond
23 fév. 2021 01:59
2,85 €
Switch

10,99 €

Repressed
23 fév. 2021 01:59
1,35 €
Switch

7,99 €

−74%
Esport Manager
23 fév. 2021 01:59
2,07 €
Switch

7,99 €

−60%
Thea: The Awakening
01/03/2021 01:59
7,19 €
Switch

17,99 €

Motorcycle Mechanic Simulator
23 fév. 2021 01:59
1,18 €
Switch

6,99 €

−83%
The Mims Beginning
23 fév. 2021 01:59
1,35 €
Switch

7,99 €

Worlds Of Magic: Planar Conquest
23 fév. 2021 01:59
1,69 €
Switch

16,99 €

−74%
Catch A Duck
23 fév. 2021 01:59
1,29 €
Switch

4,99 €

Help Me Doctor
23 fév. 2021 01:59
1,35 €
Switch

7,99 €

Car Mechanic Simulator Pocket Edition
23 fév. 2021 01:59
1,99 €
Switch

19,99 €

Drowning
08/03/2021 01:59
1,49 €
Switch

2,99 €

Electro Ride: The Neon Racing
23 fév. 2021 01:59
6,59 €
Switch

10,99 €

−83%
Garage Mechanic Simulator
23 fév. 2021 01:59
1,18 €
Switch

6,99 €

Goat Simulator: The Goaty
01/03/2021 01:59
7,49 €
Switch

29,99 €

Ramageddon
23 fév. 2021 01:59
1,35 €
Switch

7,99 €

Ski Sniper
23 fév. 2021 01:59
1,29 €
Switch

4,99 €

Gerty
23 fév. 2021 01:59
1,29 €
Switch

12,99 €

Fishing Adventure
23 fév. 2021 01:59
1,52 €
Switch

8,99 €

Bug Academy
23 fév. 2021 01:59
1,29 €
Switch

12,99 €

Gym Hero — Idle Fitness Tycoon
23 fév. 2021 01:59
1,03 €
Switch

1,89 €

−60%
Stab Stab Stab!
01/03/2021 01:59
3,99 €
Switch

9,99 €

Wide Ocean Big Jacket
06/03/2021 01:59
1,74 €
Switch

6,99 €

Wurroom
08/03/2021 01:59
0,99 €
Switch

1,99 €

Bus Driver Simulator
23 fév. 2021 01:59
17,99 €
Switch

29,99 €

Hyper Sentinel
23 fév. 2021 01:59
0,99 €
Switch

5,99 €

Hypnospace Outlaw
17/03/2021 01:59
10,31 €
Switch

17,19 €

−25%
Drink More Glurp
23 fév. 2021 01:59
6,66 €
Switch

8,89 €

Noir Chronicles: City Of Crime
08/03/2021 01:59
1,49 €
Switch

14,99 €

Grim Legends 3: The Dark City
08/03/2021 01:59
1,49 €
Switch

14,99 €

Yes, Your Grace
17/03/2021 01:59
10,07 €
Switch

16,79 €

−50%
Eternum Ex
22 fév. 2021 01:59
3,99 €
Switch

7,99 €

Dadish 2
4,79 €
Switch

9 €

Solitaire Spider Minimal
15/03/2021 01:59
0,99 €
Switch

2,99 €

House Flipper
22 fév. 2021 01:59
12,49 €
Switch

24,99 €

Solitaire Klondike Minimal
15/03/2021 01:59
0,99 €
Switch

2,99 €

Micro Pico Racers
22 fév. 2021 01:59
1,99 €
Switch

3,99 €

Slither Loop
15/03/2021 01:59
0,99 €
Switch

2,99 €

Defentron
22 fév. 2021 01:59
4,99 €
Switch

9,99 €

−50%
Bleep Bloop
22 fév. 2021 01:59
1,99 €
Switch

3,99 €

Monster Puzzle
22 fév. 2021 01:59
0,99 €
Switch

1,99 €

Fantasy Tower Defense
17/03/2021 01:59
0,99 €
Switch

4,99 €

The Legend Of Ninja
17/03/2021 01:59
1,59 €
Switch

7,99 €

Fall Gummies
17/03/2021 01:59
1,59 €
Switch

7,99 €

−50%
Wayout
14/03/2021 01:59
1,49 €
Switch

2,99 €

−20%
Choices That Matter: And The Sun Went Out
03/03/2021 01:59
3,99 €
Switch

4,99 €

Sorry, James
14/03/2021 01:59
2,49 €
Switch

4,99 €

The Big Journey
14/03/2021 01:59
2,49 €
Switch

4,99 €

Lines Infinite
14/03/2021 01:59
0,99 €
Switch

1,99 €

−50%
Lines X
14/03/2021 01:59
0,99 €
Switch

1,99 €

Choices That Matter: And Their Souls Were Eaten
03/03/2021 01:59
3,99 €
Switch

4,99 €

−70%
#Nolimitfantasy, Super Puzzles Dream
15/03/2021 01:59
1,85 €
Switch

6,19 €

−70%
Caveblazers
27 fév. 2021 01:59
3,89 €
Switch

12,99 €

−70%
Spartan
13/03/2021 01:59
1,19 €
Switch

3,99 €

Chromagun
22 fév. 2021 01:59
1,99 €
Switch

19,99 €

−16%
Dai Shi — Jungle Fury Villain Character Unlock
4,99 €
Switch

5,99 €

−16%
Trey Of Triforia — Zeo Gold Character Unlock
4,99 €
Switch

5,99 €

−16%
Eric Myers — Time Force Quantum Ranger Character Unlock
4,99 €
Switch

5,99 €

−16%
Mmpr Lord Zedd Character Unlock
4,99 €
Switch

5,99 €

−16%
Anubis Cruger — Spd Shadow Ranger Character Unlock
4,99 €
Switch

5,99 €

−16%
Jen Scotts — Time Force Pink Character Unlock
4,99 €
Switch

5,99 €

Dadish
28 fév. 2021 01:59
1,79 €
Switch

4,54 €

Best Friend Forever
20 fév. 2021 01:59
11,38 €
Switch

16,99 €

Season Match 3: Curse Of The Witch Crow
05/03/2021 01:59
4,99 €
Switch

9,99 €

3D Minigolf
05/03/2021 01:59
9,99 €
Switch

19,99 €

Yuppie Psycho: Executive Edition
28 fév. 2021 01:59
10,82 €
Switch

16,66 €

−50%
Lastfight
05/03/2021 01:59
14,99 €
Switch

29,99 €

Airfield Mania
15/03/2021 01:59
0,99 €
Switch

4,99 €

−50%
Tales Of The Tiny Planet
05/03/2021 01:59
7,49 €
Switch

14,99 €

Season Match 2
05/03/2021 01:59
4,99 €
Switch

9,99 €

Syder Reloaded
15/03/2021 01:59
8,39 €
Switch

11,99 €

−50%
Cel Damage HD
25 fév. 2021 01:59
4,49 €
Switch

8,99 €

Summer Sports Games
05/03/2021 01:59
12,49 €
Switch

24,99 €

Winter Sports Games
05/03/2021 01:59
12,49 €
Switch

24,99 €

−50%
Moai VI: Unexpected Guests
05/03/2021 01:59
8,49 €
Switch

16,99 €

3D Billiards — Pool & Snooker
05/03/2021 01:59
9,99 €
Switch

19,99 €

Florence
20 fév. 2021 01:59
2,74 €
Switch

5,49 €

Retro Game Pack
15/03/2021 01:59
0,99 €
Switch

4,99 €

−50%
Mahjong Deluxe 3
05/03/2021 01:59
9,99 €
Switch

19,99 €

Ultragoodness 2
05/03/2021 01:59
3,99 €
Switch

4,99 €

Birds And Blocks
15/03/2021 01:59
0,99 €
Switch

3,99 €